Small Business Legal Resources for COVID Questions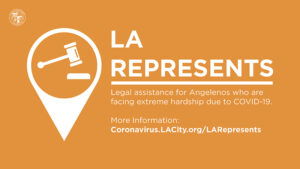 Bet Tzedek and LA Represents help small business owners in Los Angeles find free legal resources to address problems caused by the COVID-19 pandemic. We're here for you. Here's how:
RESOURCES, FLYERS, AND FAQS: Please click here to access updated information on tax relief for small businesses, employments rights in the pandemic, loan resources, alternative business models and more. Free to everyone.
WEBINARS: Please click here for our schedule of webinars. We will be offering both general business law education and COVID-specific programming. Registration required. Free to everyone.
ONE-ON-ONE LEGAL ASSISTANCE: Small businesses seeking legal counsel for legal issues may submit an application for assistance. Priority will be given to businesses in under-served communities. If your small business has an urgent legal need that is unrelated to the current COVID-19 pandemic, email Bria Stephens at bstephens@bettzedek.wpcdn-b.com for assistance.
Haga clic aquí para obtener una versión en español de la Aplicación para Pequeñas Empresas.
Small Business COVID-19 Assistance Application